Embody YOUR Purpose, Brilliance, Wellness and Abundance-with-more-ease in 100 days
(12 x exclusive spots: 6 April-14 July '18)
Graduation
Know your destiny is calling…
its time to uplevel your business, but not sure how?
Feel like something is missing, or lost your mojo from your business or life?    Doubt yourself, even though you've achieved some success?  When you become aware of issues that are holding you back, it's time to make some positive changes.  Other signs could be:
You are unclear about your direction
Or you feel you know your purpose, but you are not sure of the next step
You're procrastinating or your hearts not in it 100%
Picking up on stress and negativity from others
Holding yourself back because of fears & doubts
You know you have unique gifts, and you were born for more
You are NOT paid what you are worth (for your expertise)
Feeling depleted
Niggling health issues
If you can relate to one or more of these issues, and want to make sustainable changes that really work – the timing is right for you
Discover YOUR Natural Brilliance & Easier Success Zone..
Are you ready to begin to change and up-level your inner and outer business and life as the Purposeful, Brilliant Expert in your field that you truly are?   If you feel it is time to be all that you are called to be, then come and join us.  We'll help you to take the first step. We'll support you safely, so you can ease into your life of purpose and vitality that is your birthright.  It will it be a fun, insightful, creative process.  And we'll nurture you, so you can proceed at your own natural pace, and in so doing, feel deeply relaxed, while your doubts, cares and worries just drop away.
Exclusive-Transformative-Weekend Workshop,
with Andrea Sun
All our packages start with this high frequency in person workshop, with 12 people maximum, where you leave being the brilliant entrepreneur on purpose you have been trying to be.
You begin your process of transformation, where you'll experience a radical shift in consciousness through Pellowah Empowerment Healing and Yin/Yang Transformative Coaching – in a safe and supportive environment – with a highly qualified and expert trainer, Andrea Sun.
Pellowah is a high vibrational frequency energy. Pellowah healing balances your energy and increases your connection to your intuition, giving you inner strength and confidence. You'll also have an expanded level of consciousness and awareness. It's as if thick curtains have kept your brilliance hidden but are then pulled back so light pours in for the first time, reflecting your brilliance to the world and back to you.
You'll leave with two empowerment sprays to support you every day.
After this Workshop, you will not feel the same
Your energy will be magnified, your spirit will be free, and you will lead the direction of your life with ease, clarity and in the highest expression of your truth.
For the following 100 days of your selected package, I will work with each one of you, one-on-one for up to 4 hours, and you'll continue to feel shifts in your life as you build it through the conscious direction of your truth. This creates flow. This creates joy. This creates magnetism, drawing your ideal clients or your ideal work situation to you. This creates abundance.
After 100 days you will have…
*Strengthened Pillar 1 (YOU): More Inner Business strength, resilience, confidence, emotional stability, focus, clarity, adaptability, and intuitive knowing – regardless of outside circumstances, in a fast changing world
*Pellowah Empowerment Healing Certificate 1 & 2
*Direction and Purposeful Business and Life
*Embodied confidence as the unique brillant expert you truly are, (and more courage to charge what you are worth)
*Discover your "Easier Success and wellness zone" that works for you
*Learnt some Simple Qi Gong Exercise for nourishing wellness and energy
*Clarity about what you love in your business/life, your ideal clients, your core message, your brand stories
*Deeper trust in yourself and your intuitive knowing
*Learnt about magnetism and abundance-with-more-ease
*Some of you will be drawn to become professional Pellowah Empowerment Healers, and continue further training with Andrea
*Heaps of fun celebrating with us at our "Brilliance Celebration Dinner"
FREE Exclusive Facebook Community Support (for 2018)
You'll not feel alone in business & life. You can share and amplify your experiences in a safe, supportive environment with others who are on a purposeful, brilliant path, swap pellowah healings, get support, experiment with ideas, practice videos, and continue to master your brilliant expertise and abundance.
FREE Sustainable Support for 2018:
*FREE exclusive private facebook group support for 2018
*2 x empowerment sprays – clear stress from others, clear fears and genetic patterning
FREE Sustainable Support for the rest of your life (priceless!)
*Pellowah Empowerment Healing – SWAP for the rest of your life for FREE
(more sustainable success for business and life)
*Give Pellowah Empowerment Healings to support your loved ones or children
Paul cleared self-doubt, EMBODIED Yin-Yang of Success, and achieved phenomenal money results……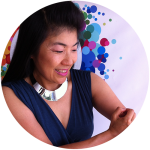 Andrea Sun:
"I have been teaching Pellowah Empowerment Healing: Level 1 & 2 since 2005, and  have found this to be one of the easiest-fastest ways to clear deep fears, limited genetic family patterning, balance all levels, and trust your intuitive knowing. And the more you repeat this training, the deeper embodiment and magnetic results.".  
*Intuitive Purpose Coach and Acupuncturist (worldwide)
*Chinese Medicine and Natural Therapist Trainer, with over 24 years of experience with Holistic Health (including Qi Gong Exercise)
*I am a human design projector, and I have a natural gift of intuitively knowing your true essence and bringing out your unique brilliance.
*Completed the 'Present Like a Pro' $5000 training course  (to learn to become a professional international presenter).
EARLY BIRD SPECIALS on our 4 Transformational Package
Book and pay by 31 January 2018 and SAVE $400!
Payment plans available.
Our 4 Transformational Packages are carefully designed to suit a maximum of only 12 participants.  You can save money with:
*business tax deduction
*3% Cashback (if you join our FREE Loyalty Programe)
*4 hour Wellness-Acupuncture Package – if you choose Acupuncture or Remedial Massage –receive health rebates
* swap Pellowah Healings for FREE – forever – to support your business, health to thrive.
Deb lost her business direction, cleared childbirthing stress & achieved her goals-with-more-ease…
Deb had 2x MORE Pellowah Attunements & Meditation, & magnetised her dream business goal-with-ease…
Program Details:  
Brisbane, Australia and Online
*Weekend workshop: 6 – 9 April 2018: Brisbane, Australia (ALL PROGRAMS 3 days)
Bardon Counselling & Natural Therapies Centre
151 Boundary Road, Bardon, Qld 4065
Friday 6 April 2018:          5.30pm – 9.30pm
Saturday 7 April 2018:     9.30am – 5.30pm & *Cashback Dinner
Sunday 8 April 2018:        9.30am – 5.30pm
Monday 9 April 2018: 5.30-9.30pm: Brisbane Venue TBA
*Gold Program & VIP Diamond Programs
96 days Online and 2-3 additional Pellowah Attunements: Brisbane, Australia
Plus 2 VIP 4-hour sessions: Magnetic Abundance (Brisbane or worldwide)
*Brilliance Celebration dinner: Brisbane Venue TBA
Saturday 14 July 2018: 3.30pm till lat
Online (worldwide)
96 days online
*Not included in the program
Jules has a lot more confidence than she's ever had & knows she CAN do her own business…
"My challenges were direction and confidence"
I had no idea what I wanted to do, and why I was here.
My major benefits were: the holistic purpose & wellness plan, direction and clarity.
What I learnt was, "I am allowed"
My biggest breakthrough was direction and new ideas.
My 90 day goal was to have our business sold/merged. That hasn't quite got there yet, but I'm confident that will come.
People have been coming to me out of the blue
and wanting me to help them business wise.
One of the good things I got out of it, was what our strengths and weaknesses are.
I was always feeling like I was running around directionless, but now I know a strength is I can multi task.
My results are I've got a lot more confidence than I've ever had and I CAN do my own business, cause I'm allowed.
I liked the Holistic Purpose & Wellness Plan written down summary, and look at it all the time and what my strengthens are.
I liked the interaction of stories- working in pairs, everybody has a different perspective, and it was an eye opener.
Love the Qi Gong exercises and interested to learn more.
I feel this programe has been 100% beneficial to me in my business & life.
by Jules
PT Business Owner & FT Employee
I personally guarantee you'll receive significant benefit from these courses. If you swap a minimum of 6 healings after the course, and you don't feel it has been of benefit to you, you can repeat the next Pellowah course for FREE, so you DO benefit!